Article by Marc Ashed - @MarcAron22
Christian Eriksen, the 21 year old Danish star for Ajax may be on the brink of a move to North London to play for Spurs. Eriksen is already one of the top midfielders in Europe and adding him to the Spurs midfield would be a coup.
Eriksen Spurs Bound?
According to this link (
Eriksen Link
), he has chosen to join Tottenham depending on our Champions League qualification. This is another reason that our quest to finish top 4 should take precedent over a potential Europa League title. Top drawer talent does not care if you are Europa League Champs, they want to play the best teams on the biggest stages in world soccer.

Let's look a little closer at what he brings:
-Technically sound, two footed player
-Can play anywhere in the midfield of a 4-3-3 or 4-2-3-1 and also could play up front on the wings of a 4-3-3.
- 20 goals, 35 assists in 87 games since 2010
-"He's a player I really like with all my heart,"--
Johan Cruyff
Eriksen is creative, intense, loves the game, is incredibly composed in front of the net and seems to see the game a few plays in advance. His ability to create from anywhere on the pitch is a gift and evident on the highlight videos. I have watched him for Ajax and there is something different each game that he does that impresses the fans. He is a special player.

He would be the most ambitious signing in Spurs history--Eriksen is a world class player that has the potential to be the top midfielder in the world in a few short years. If I had the power to choose one player for Tottenham that would elevate their status among Europe's elite, it would be CE8. I have created a lineup to show what a 4-3-3 looks like with Eriksen in it.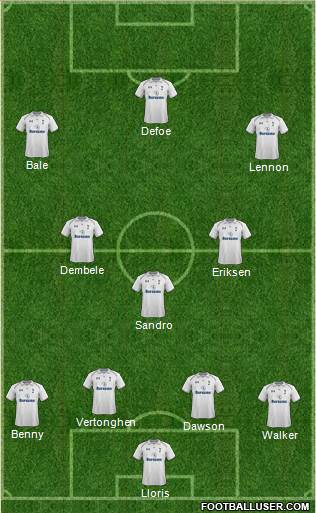 Imagine the depth of this squad:
Holtby, Gylfi and Carroll able to back up any of the midfield positions rather than Livermore, Huddlestone & Scott Parker
Eriksen elevates Tottenham to not only a quality Champions League squad but also one that is a legitimate contender for the Barclay's Premier League title.
Comment on this article below or on our Forum!